Regular price
Sale price
¥850
Unit price
per
Sale
Sold out
About
Materisl
Colors
Attention
Improve the quality of work creation,
Domestic cotton wax cord that expands charm and joy

Waxed cotton cord that takes advantage of T.S.BRAND's strengths.
By manually applying more wax by the craftsman, the string becomes glossy and firm, and it becomes a beautiful string with a unique "gentle elegance".
The size is thinner than the normal cotton wax cord, and the ultra-fine structure of about 0.5 mm can express the fine mesh beautifully, adding a tight look to accessories and other works.

By slowly and finely assembling the "eight-strand stones" made of eight cotton threads, it has excellent strength, and the delicate stitches emphasize the soft touch of cotton.

The record-like design, combined with its laid-back form, makes it a picture even if it is left casually. Of course you can use one type, but you can also use it more fun by combining several, so please collect your favorites one by one.

■ Details
0.5 mm waxed cotton string

■ Size (m)
Length 30 meters

■ Size details (mm)
Thickness about 0.5 mm 

■ Material
String: 100% cotton

Click the photo to zoom.
BLACK, WHITE, NATURAL
DARK BROWN, NAVY, LIGHT GRAY
RED, BROWN, MUSTERD
MOSS GREEN, BLUE, TERRACOTTA
LIME, SKY BLUE, LAVENDER
YELLOW, BABY PINK, MINT GREEN
BEIGE, GREIGE, BURGUNDY
NILE BLUE, MANDARIN ORANGE, VIOLET
SAFFRON YELLOW, CHARCOAL GRAY, IVORY
CORAL, CHERRY PINK, PURPLE
ULTRAMARINE, FOREST GREEN

32 Colors

-This product is hand-waxed on a cotton string. Therefore, it may be slightly different from the size stated in the processing condition. note that.
・ The color may differ slightly depending on the dyeing lot.
・ In rare cases, there may be seams, but in that case, extras are added.
-The color may look different from the actual product depending on the computer monitor you are using.

[Handling / care method]
・ Due to the specifications of cotton products, please refrain from end treatment with heat such as baking. Waxed braids cannot be unraveled simply by cutting the ends.
-Since the natural fiber is specially processed, if it is sealed with moisture while it is still wet, it may cause discoloration or mold. Store it in a well-dried and well-ventilated place.
説明

■詳細
0.5㎜蝋引き綿紐

■サイズ(m)
長さ 30 meter

■サイズ詳細(mm)
太さ 約0.5mm 

■素材
紐 :綿100%
カラー

BLACK, WHITE, NATURAL
DARK BROWN, NAVY, LIGHT GREY
RED, BROWN, MUSTERD
MOSS GREEN, BLUE, TERRACOTTA
LIME, SKY BLUE, LAVENDER
YELLOW, BABY PINK, MINT GREEN
BEIGE, GREIGE, BURGUNDY
NILE BLUE, MANDARIN ORANGE, VIOLET
SAFFRON YELLOW, CHARCOAL GREY, IVORY
CORAL, CHERRY PINK, PURPLE
ULTRAMARINE, FOREST GREEN

32 Colors
お取り扱い

・コットン製品の仕様により、焼き留めなど熱での末端処理はご遠慮ください。蝋引き組紐は末端をカットするだけでは解けることはありません。
・天然繊維に特殊加工をしているため、濡れたまま湿気を含んで密封しますと、変色・カビ等の原因となります。よく乾かした状態で通気性の良いところで保管して下さい。
ご確認

・この商品は綿紐に、手作業にて蝋引き加工をしております。そのため加工具合で記載されているサイズとは若干異なる場合があります。ご了承ください。

・染色ロットにより色味が多少異なる事があります。

・ご使用のパソコンモニターによって、実際の商品と色が異なって見える場合があります。
View full details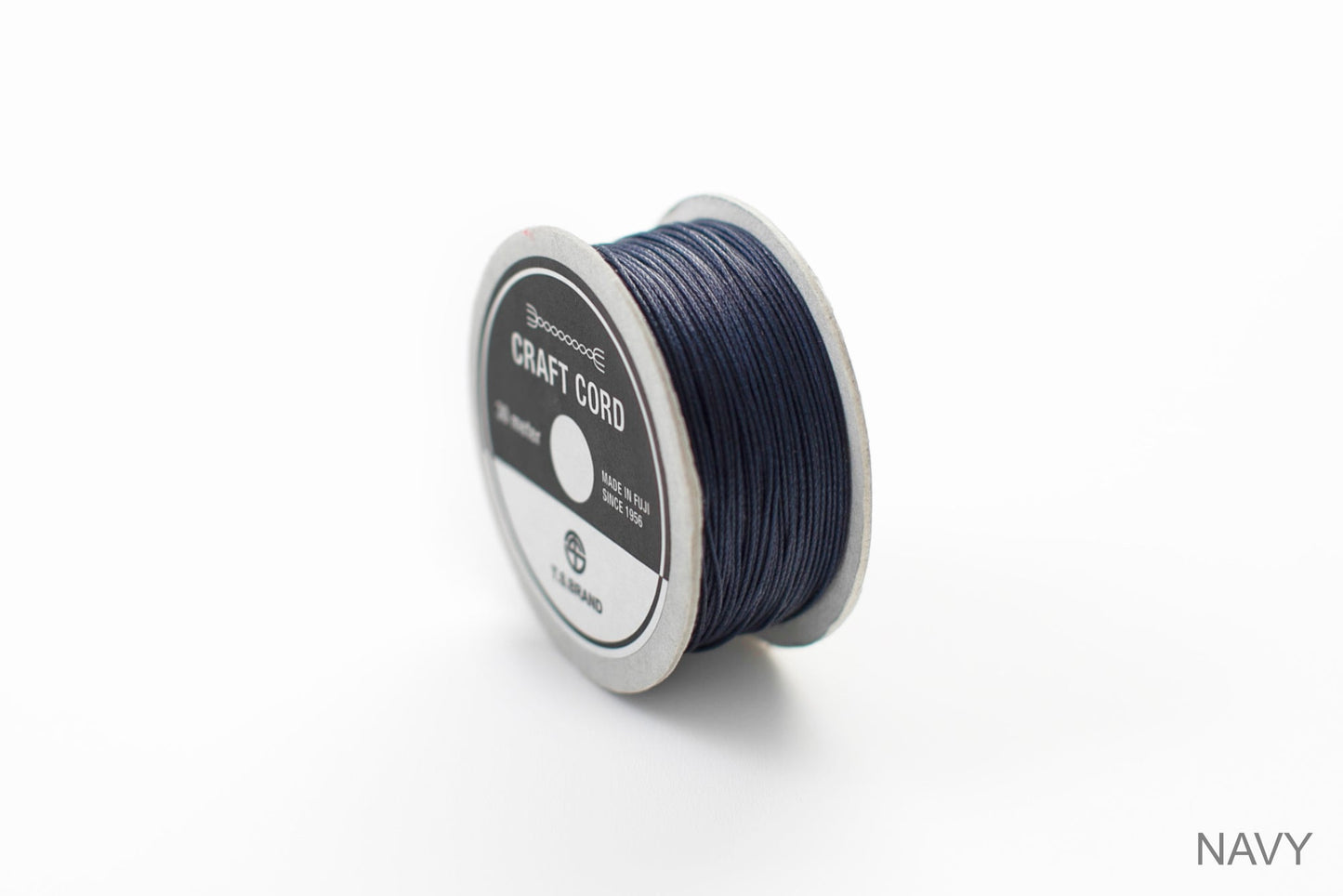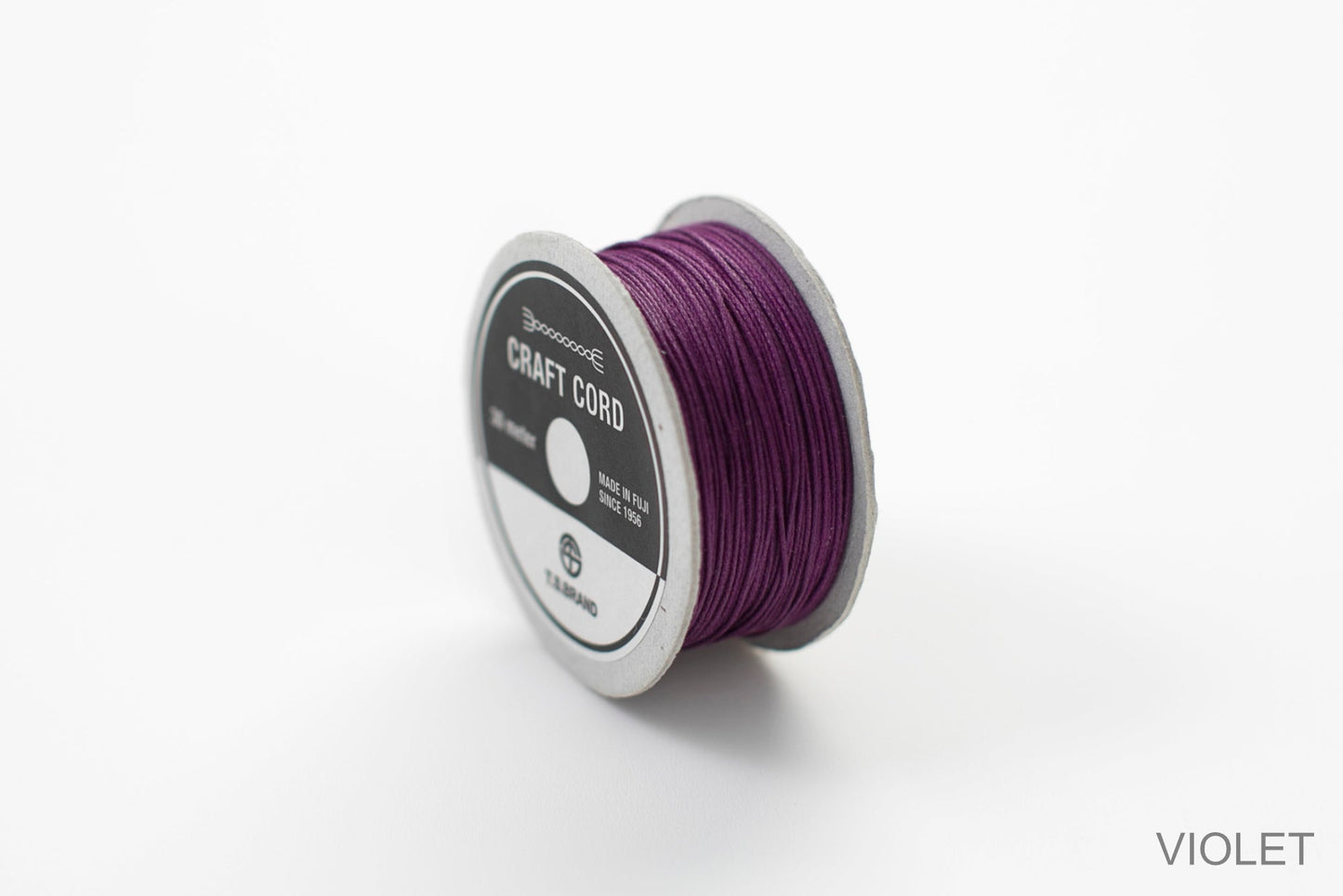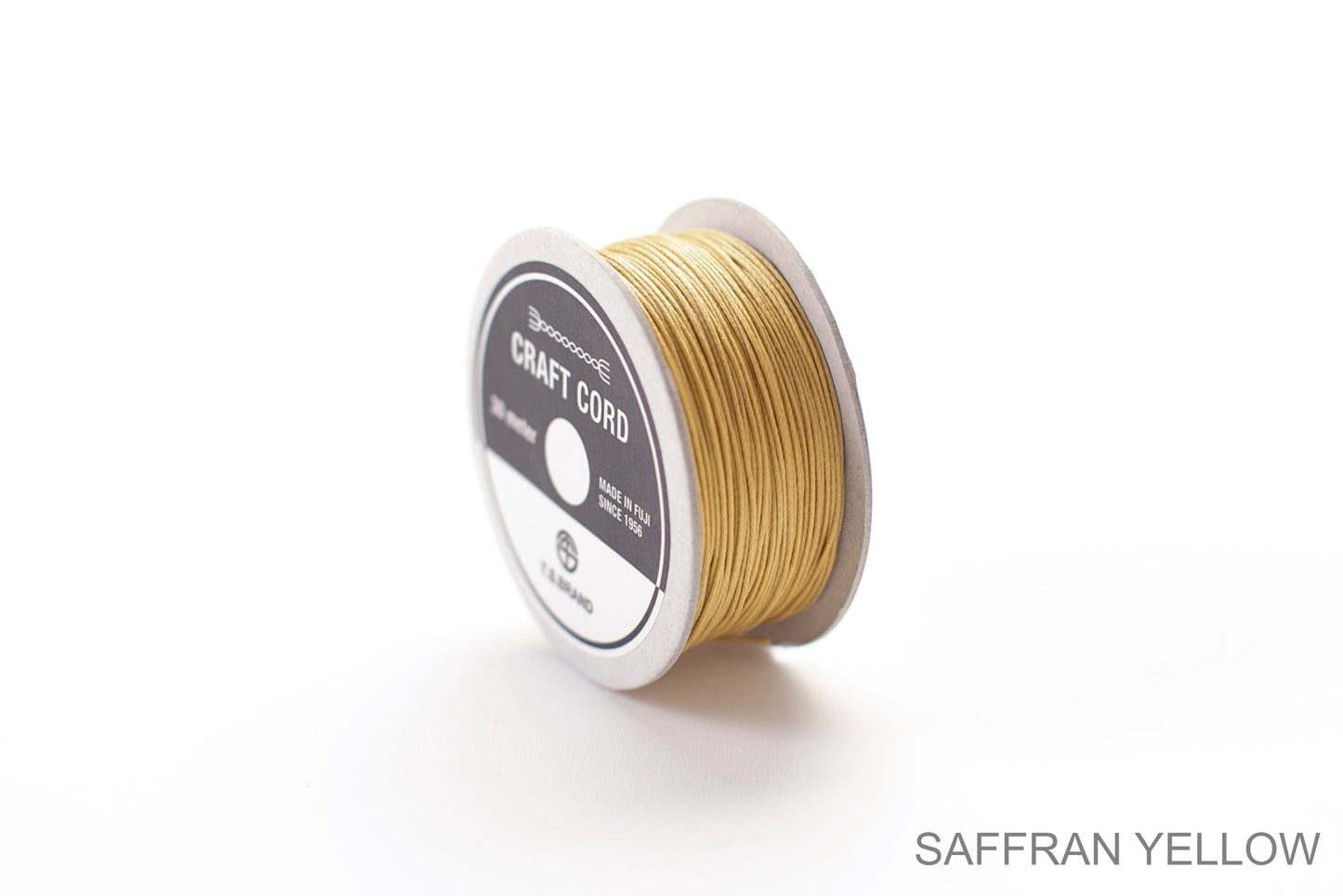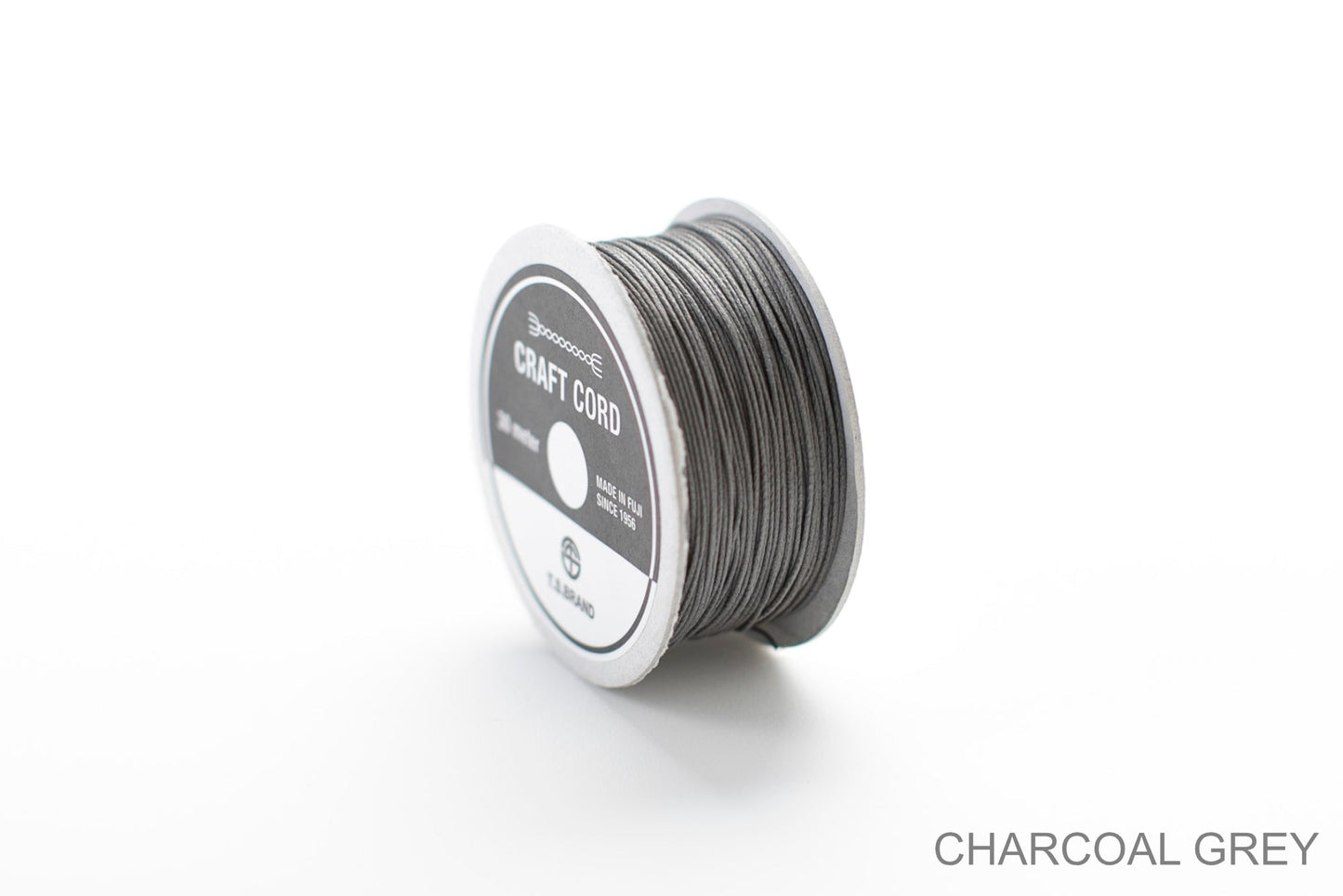 美しい網目が生まれる
しっとりと美しい気品のある艶、繊細な組み目を併せ持つ、極細サイズの蝋引き紐です。ベタつきのない質感と丈夫な仕上げは、マクラメや革の縫い糸などにも、幅広くご利用いただいております。
職人が手作業で1,500回以上も繰り返し蝋を一層一層塗り重ねる"蝋引き"をすることで生まれる独自の艶は、紐の芯に染み渡るからこそ深みある艶を生み、重なり合うからこそしっとりとした肌触りを生み出します。
紐ができるまで
Made in FUJI
「命の源水」と言われる富士の湧き水で染め上げられた彩りは、発色も艶やかであり、様々な色合いを彩ることに欠かすことができない富士の恵みが与えてくれた色彩です。
レコード調のデザインも、ころりとしたフォルムと相まって無造作に置いておいても絵になる愛らしさ。1種類で使うのはもちろん、いくつか組み合わせるとより楽しくお使いいただけますので、お気に入りをひとつずつ集めてみてください。
design by Keita Hanazawa (unknot)