Regular price
Sale price
¥1,500
Unit price
per
Sale
Sold out
(サイズのオーダーカットを選択後、希望の長さをご入力ください [例:130cm] )
The tightly packed core that has been tried and errored many times to adjust the core
It keeps clean even if you pull it.
Round shoelace with a focus on high-quality roundness and thickness.

Handicrafts of craftsmen who repeat waxing more than 1,500 times.
"Waxing" that is applied one after another permeates to the core of the string
Produces a deep and unique luster and moist touch.

The gorgeous colors dyed with the underground water of Mt. Fuji, which is the blessing of Mt. Fuji.
The delicately calculated string width and thickness also have durability,
An elegant lace that has been handed down for three generations and is particular about the finest details.

■ Color
BLACK
DARK BROWN
LIGHT GRAY
NATURAL
WHITE

■ Details
Waxed shoelaces
120cm waxed shoelaces for low-cut shoes (6-7 shoe holes)
150cm waxed shoelaces for high-cut shoes (8-9 shoe holes)
Free size order cut ~ 200 cm (+ ¥ 165) or 201 cm ~ (+ ¥ 300)

■ Size details (mm)
Thickness: Approximately 4 mm / Tip diameter: Approximately 4.3 mm

■ Material
String: 100% cotton / Metal tip: Made of brass

・ Order cuts are simple packaging, not packaging. In addition, it may take longer than usual. Please note.
-There is a size difference between the original metal tip diameter and the shoe hole diameter of your shoes. Please check in advance.
-This product is hand-waxed on a cotton string. Therefore, it may be slightly different from the size stated in the processing condition. note that.
・ The color may differ slightly depending on the dyeing lot.
-The color may look different from the actual product depending on the computer monitor you are using.
説明

■カラー
BLACK
DARK BROWN
LIGHT GREY
NATURAL
WHITE

■詳細
蝋引き靴紐
120cm蝋引き靴紐 ローカットシューズ用(シューホール数6~7)
150cm蝋引き靴紐 ハイカットシューズ用(シューホール数8~9)
フリーサイズ オーダーカット ~200cm (+¥165) or 201cm~(+¥300)

■サイズ詳細(mm)
太さ:約4mm /チップ径:約 4.3 mm

■素材
紐 :綿100% /メタルチップ :真鍮製
オーダーカットについて

各SHOELACE 商品ページにてカラーをご選択後、
サイズ選択欄にて「オーダーカット~200cm」又は「オーダーカット 201cm~」をご選択ください。
その後、オーダーカットサイズ欄にご希望の長さをご記入ください。

例:BLACK,160cm の場合

カラー選択:「BLACK」
サイズ選択:「オーダーカット ~200cm」
オーダーカットサイズ欄:160cm

【ご注意点】

オーダーカット商品は、簡易パッケージでのお届けとなります。
通常より長くお時間をいただく場合がございます
オーダーカット商品の返品、交換は基本的にお受けできません。予めご了承ください。
お取り扱い

・シューケアの際には、一度取り外しをお願い致します。

・天然繊維に特殊加工をしているため、濡れたまま湿気を含んで密封しますと、変色・カビ等の原因となります。よく乾かした状態で通気性の良いところで保管して下さい。
ご確認

・型からオリジナルの金属チップ径とお持ちの靴のシューホール径にサイズ差があります。あらかじめご確認お願い致します。

・この商品は綿紐に、手作業にて蝋引き加工をしております。そのため加工具合で記載されているサイズとは若干異なる場合があります。ご了承ください。

・染色ロットにより色味が多少異なる事があります。

・ご使用のパソコンモニターによって、実際の商品と色が異なって見える場合があります。
View full details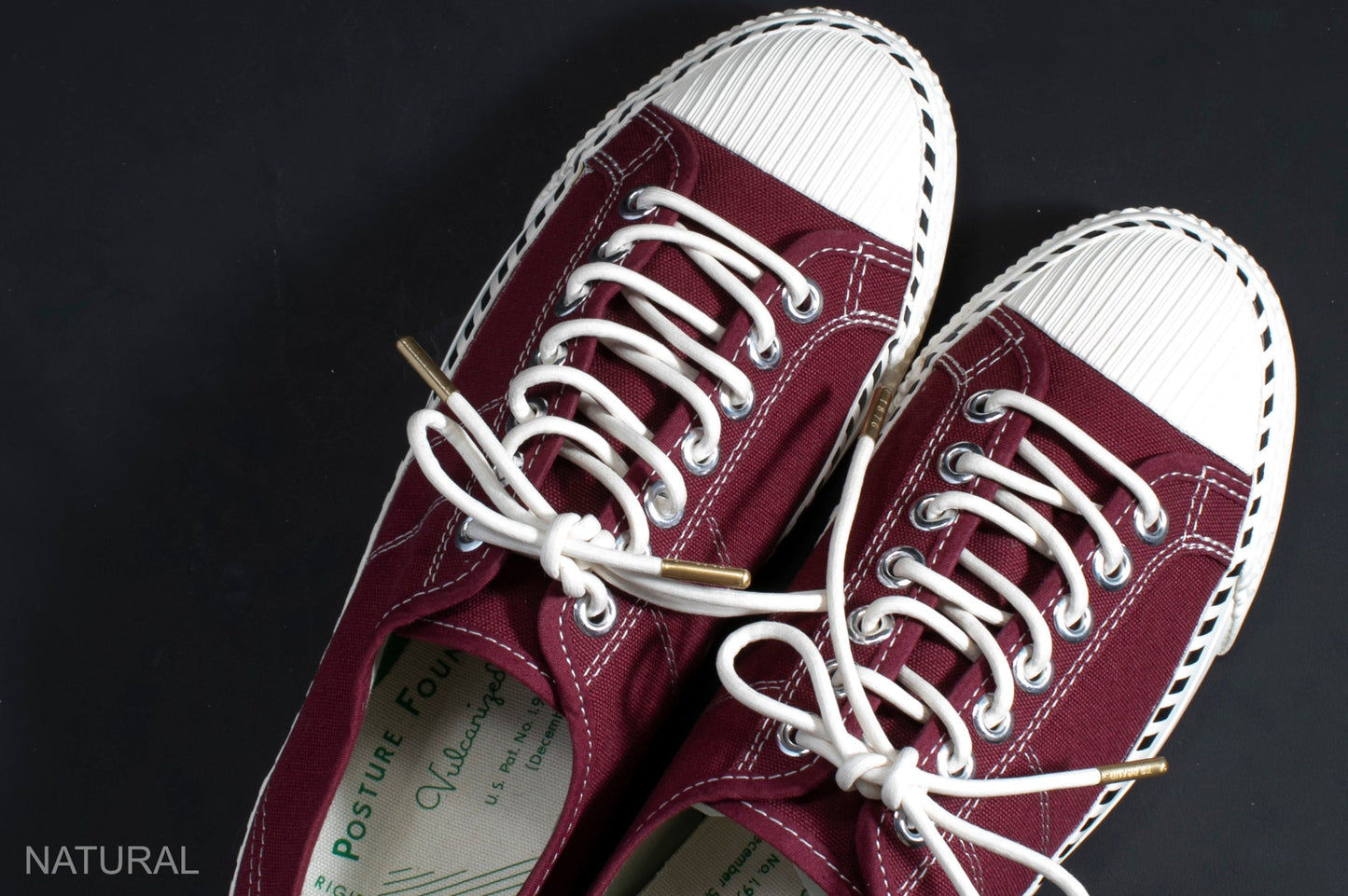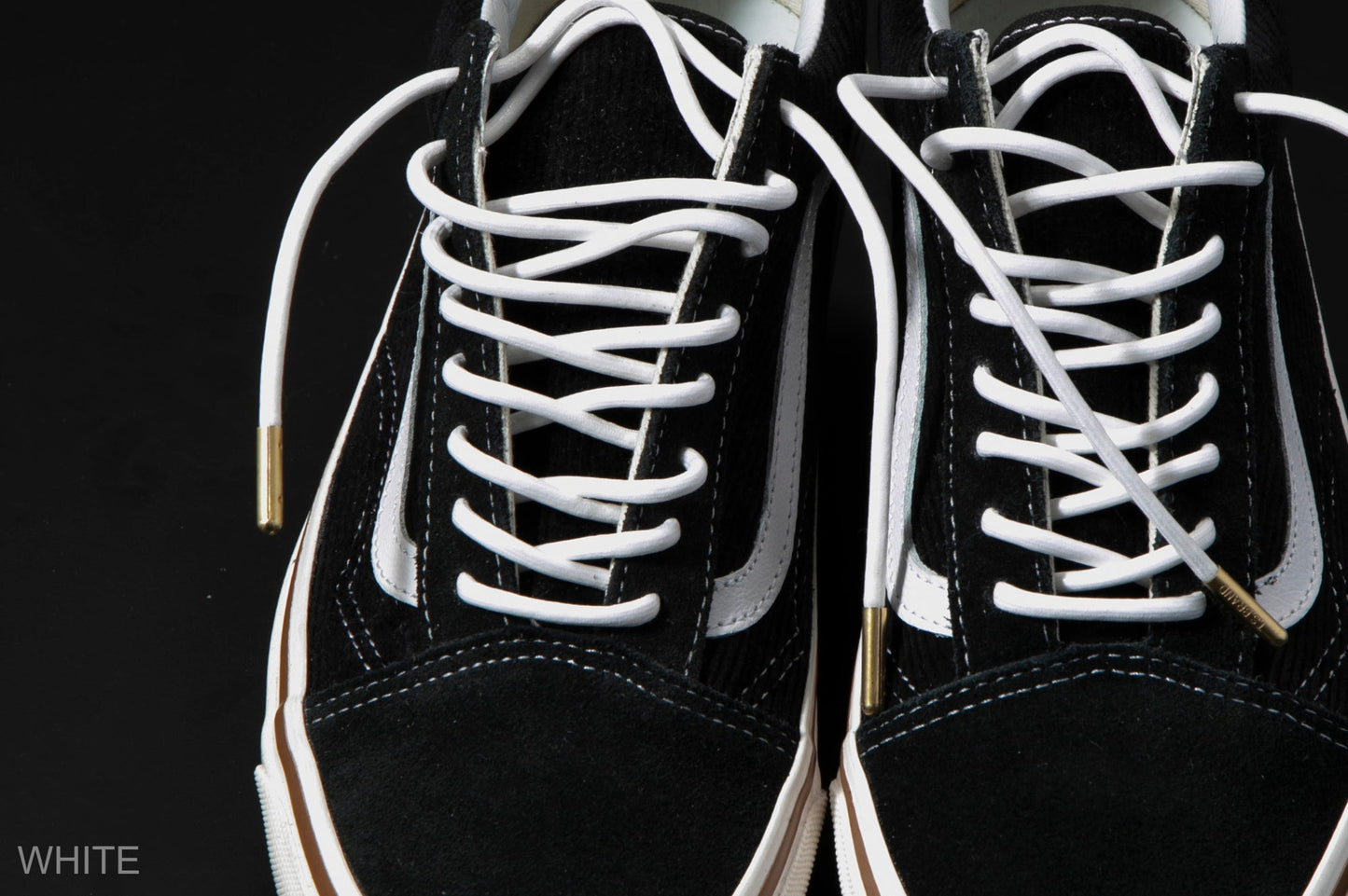 1,500回以上も繰り返し蝋を重ねる職人の手仕事。一層一層塗り重ねる"蝋引き"が、紐の芯まで染み渡り深みある独自の艶としっとりとした肌触りを生み出します。
構想から50年の秘められたブランドへの想いを真鍮製弾丸チップに刻みました。深みある金属は、蝋引きされた組紐と時を共に成長し、黄金の差し色で包み込まれた重厚感はWAX' SHOE LACEの艶と調和します。